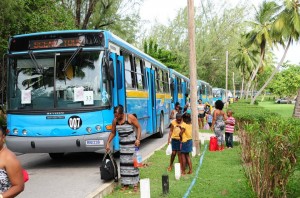 As part of its ongoing tour services the Transport Board now offers an Island Tour which forms part of its Charter services.
This tour stops at the following locations:
Folkestone Park,
Farley Hill
East Coast Road
Bathsheba
Three Houses Park
King George V Memorial Park
This gives patrons a chance to see most of the island in one tour!
Cost:
$670.00 per bus ($16.75 per person) with a seating for 40 passengers.
$770.00 per bus ($19.25 per person) if this tour is booked for any of the following days.
Also note that a caution fee of $120.00 is charged per bus. This fee is refundable if the client returns the bus within the seven hours allotted.