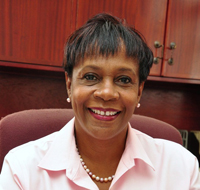 In its second year of office, on Thursday April 1st, 2010, the Democratic Labour Party created history by appointing the first female, Ms. Sandra Forde, to the position of General Manager of the Transport Board, whose role it will be to lead the organisation in the 21st century. The Transport Board has the responsibility of providing public transportation services to the public of Barbados. This is done over a period of twenty-two hours daily and includes not only regular route services but also school services and a limited call-a-ride service for persons with disabilities.
Ms. Sandra Forde joins the organisation, which is celebrating its 55th Anniversary in August of this year, at what can only be described as a period of change including the development of additional technologies and the extension of services. This former banker, who has an extensive background in financial, customer service and operational management, has accepted the task of leading management and staff and her many skills will, of necessity, be employed to guide the organisation on the path towards financial stability.
Ms. Forde's skills in the key areas of service management, operations and human resource management, cost containment and revenue enhancement techniques will prove to be invaluable to the organisation as it seeks to reduce it dependency on the largesse of the government of Barbados. This state of affairs must be given prominence as the Transport Board is a multi-million dollar institution which deploys a large number of persons and contributes enormously to the economic and social landscape of Barbados. The new General Manager strong interpersonal and communication skills will prove to be invaluable in this new post.
Additionally, Ms. Forde's knowledge and extensive experience and expertise gained from having worked for over 30 years in the banking industry will be an asset in the areas of finance, people management, team leadership and relationship building.
30th March 2010
Lynda Holder
Manager – Marketing and Corporate Communications
For questions or queries please contact:
Marketing and Corporate Communications Department
Transport Board