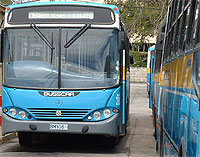 The Oistins to Speightstown ABC Highway service will be launched on 29th March 2010. In the initial stages this service will work from Monday to Friday only.
The Time table for this service is outlined below:
From Oistins: 0600, 0700, 0730, 230pm,315pm,430pm
From Speightstown: 0600, 0700,0915,2pm,3pm,430pm
The 0700am service from Speightstown and Oistins is a LIMITED STOP service. That means, the bus will allow persons to board and disembark at specific points along the route.
The limited stops are: Speightstown, Trimart Supermarket in Mile & Quarter, Upper Carlton, Redman Village, Warrens, Hothersal Turning, Norman Niles, SJPP, Sheraton, Newton Industrial Park, Foundation School Oistins
There is no free transfer unto this service. This is a general route bus and passengers will pay to the standard fare to use the service.
The Transport Authority will be providing booklets for distribution in the terminals and at other key locations.
To view the new route, please do the following:
Go to the Search By Parish area
Select St. Peter as your parish
Then select Speightstown Terminal as your Route
Finally, Click the SEARCH button